18 FORE Life Golf Event Update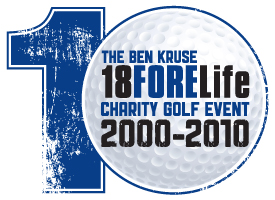 June is getting here fast and we can't wait! Our 10 Year Celebration is gearing up to be our best event yet. I still cannot believe it has been 10 years since we signed up 27 teams to play and raised around $6000.00! We have sure come a long way and we surely are more than a golf tournament thanks to folks like you teaming with us to help area families fight cancer.
Well, here are things to keep in mind as June 4-5 approaches:
*Banquet tickets on sale NOW! Contact us now to reserve your seats before it is SOLD OUT! John Mabry, Kristi Whitehead, the LIVE! Auction, the food, The BUZZ, the fellowship, the celebration will be worth $25!
*If you are intending on golfing, contact us immediately to get one of the last AM or PM spots available.
*Golf Cart Raffle Tickets are on sale now. $10 for a chance to win a RED 2010 Yamaha cart given away at the banquet (need not be present to win!).
*Garden of Hope has grown each year! $20 to put a sign in the Garden memorializing and/or honoring your loved one. The sign will be put out each and every year from now on.
*If you would like to sponsor, volunteer, or become involved in any way, let us know!
If you have questions about any of this, email or call. Can't wait to see you all. What a special time to
Celebrate | Give | Remember!!!!!!