October 2011 Update
Things have been crazy busy and crazy good around here. Summer came and went and now the fall weather makes for a beautiful time of year. Lets catch up on some of what we have going on at 18 FORE Life. Too much good stuff not to share!
The Ben Kruse Crappie Tournament
First time was a charm for Bruce and Amy Christian, Dain Bess, and a team of volunteers who made the idea of a fishing tournament happen in a BIG way. $7000 raised, 40 boats entered, and a great time by all who participated in the tournament held at Lake Wappappello. It was a wonderful day and the fishermen who know agreed the tournament was run flawlessly. Marty Poetz MC'd the weigh in, Doug Cox and Dallas Buchanan cooked some great food, and the atmosphere was perfect. This event will no doubt grow each year. Thanks to everyone who ran with this one.
Me and the Ugly C Released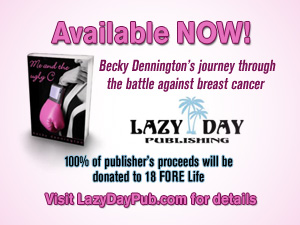 Me and the Ugly C by Becky Dennington was released Wednesday, October 5th. The book is about Becky's life during her battle and victory of breast cancer. This is an electronic book and can be purchased at amazon.com, barnesandnoble.com and omnilit.com for $4.99. If you do not have a Nook, Kindle or iPad no worries…you can download a free reader program for your desktop or laptop computers as well as your Android, iPhone or Blackberry phones. LazyDay Publishing company will be donating 100% of their profits of Becky's book to 18 FORE Life.
Dig P!NK
Dig Pink events have popped up all over southeast Missouri. Last night Dexter hosted a wonderful event raising $5000! Picture the Bearcat Event Center tricked out in PINK, the Lady Cats wearing PINK uniforms, PINK whistles being used by the referees, a PINK volleyball used in the games, and the cheering section dressed in…you guessed it, not RED and BLACK, but PINK, including 18 FORE Life t-shirts created for the occasion! The volleyball team, coaches, and Dexter Public schools should be commended for the effort in pulling this off. Still, this would NOT have happened without the organization and work of Stacy Blocker. PINK Volleyballs memorializing and honoring folks fighting cancer were sold, a silent auction took place, and funds were raised for the charity of their choice….18 FORE Life. We'll have photos in our website soon.
Next up, Dig P!NK events at Bernie, Bloomfield, and Richland. The uniforms, purchased by Central Gardens nursing home, will travel and be worn by the home team and this spirit of fundraising is growing contagious.
This Run's For Vaughn
This Run's For Vaughn raised right at $5000 this past weekend. A beautiful day to raise money for area families fighting ALS and to remember a friend, father, husband, pastor, and leader: Vaughn Wright. The bake sale raised nearly $700. The food, prepared by Doug Cox and First Christian Church Men's Group was amazing. A big thank you to Norman Hardy and First Commercial Bank for sponsoring the Tshirts given to the participants. Nearly 100 people walked or ran the 3 mile course. Challenge yourself to join us next year….YOU can do it!