National Breast Cancer Awareness Month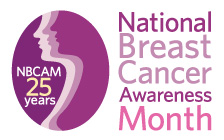 Today is the start of National Breast Cancer Awareness Month.
As with most diseases, early detection is key. Â When breast cancer is diagnosed early, it is easier to treat and treatment is much more likely to be successful. Â Research shows that survival rate is more than 95 percent if breast cancer is caught at an early stage. Â The National Cancer Institute encourages women 40 and older to have a mammogram every 1-2 years. Â And the American Cancer Society recommends women in their 20s and 30s get a clinical breast exam as part of their regular physical exam at least once every three years.
For more information, please visit the NBCAM website – http://www.nbcam.org