Great Contributions!
We want to recognize a couple of contributions made to 18 FORE Life recently. We think that both of these are great examples of simple ideas that help tremendously in our fundraising efforts. Remember, it ALL counts.
Thursday, March 31st was also a special day. It was one of those events that was actually thrown together, but seemed as if had months and months of planning behind it. The idea was simple. The Dexter 7th and 8th grade Volleyball team would host Poplar Bluff. But this would be NO ordinary game night. A pink volleyball would be used, pink whistles would be blown by the referees, pink socks and headbands worn by the players, raising awareness and money for 18 FORE Life! These young ladies not only kicked a ton of butt on the courts, sweeping PB in both matches, but they gave a championship effort behind the scenes decorating the gym and asking the community for items to be used in a silent auction. All of the work went into raising $2100.00 for 18 FORE Life and showed everyone in the gym that night that more was taking place than just a volleyball game. This amount will allow us to send out two love offerings to families on behalf of these thoughtful girls. By the way, if you haven't seen this group play ball, you are missing something special. Both groups are not only undefeated, but have yet to lose a set.
We wish to thank coaches Melissa Hahn and Kara Lummukka, the players, their parents and the entire community for getting behind this event. Next year, the Dig P!NK game will be held at the Bearcat Event Center and is sure to grow and grow!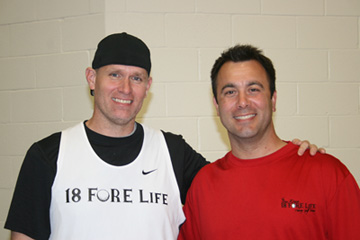 Eric Boles is not only running in the Music City Half Marathon, he is raising money for 18 FORE Life by getting folks to sponsor his efforts. His goal was $1000.00. Eric just met that goal and presented Scott Kruse with a $1000.00 check. Â The $1000.00Â will be sent out in a love offering on Eric's behalf to a family in need of help as they battle cancer. Thank you Eric and good luck!