The Ben Kruse Charity Crappie Tournament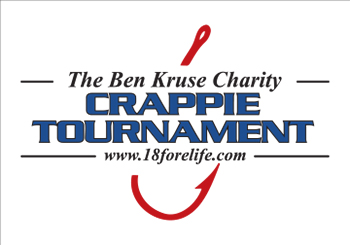 More than just a golf tournament
Our charity started in late 1999 when a few people got together and had the idea of a golf tournament to benefit The V-Foundation. In our "rookie" year we intended to send all the money to the V-Foundation but when a local sponsor asked if any of the money was being kept local, we decided to continue to support the V-Foundation but decided to give the majority of the earnings away locally to families battling cancer or other life-threatening illnesses in the form of "love offerings." We will always be called The 18 Fore Life Foundation but in 2004 we lost one of our original founders, Ben Kruse, in a tragic ATV accident. We then began hosting many other activities throughout the year to help continue to support our cause. We have grown from raising $6,000 in our first year to giving away $200,000+ EVERY YEAR!
The second biggest fundraising event that we host each year is The Ben Kruse Charity Crappie Tournament on Wappapello Lake. In our first year in 2011, we had over 40 boats of two-person teams participating and raised over $7,500. In 2017 we hosted our 7th annual tournament and it was the biggest to date. We had 103 boat entries. The weather was the best yet. And we had about 16 kids fishing this year!
The Brothertons allowed us to host at Sundowners again this year and it was a packed parking lot. Anglers, their families, sponsors, volunteers and people from the community came out to celebrate the event. Everyone enjoyed the chicken wings and cold beverages we served. We also had a silent auction and many other games, raffles and activities going on while the anglers were weighing in. We surpassed our goal for this year of 90 teams and will hit our goal of $30,000 for the event! 30 individuals or families battling life threatening illnesses will be given a love offering.
We want to personally thank all of our sponsors and our great group of volunteers that make this event such a success!

2017 Results