The Ben Kruse 18 FORE Life Charity Golf Event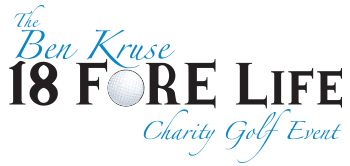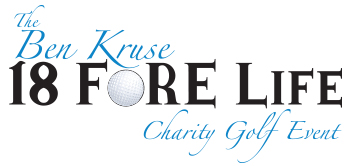 Celebrate | Give | Remember
The Ben Kruse 18 FORE Life Charity Golf Event is our staple event and the reason this charity
organization was founded. In the fall of 2000, four friends stood around a kitchen late one night-early
one morning and discussed the thought of organizing a golf tournament. They acted on the idea and in 2001, the first 18 FORE Life golf tournament took place on June 23rd! The goal of the charity, at the time, was to raise money for The V-Foundation. The group of volunteers quickly stumbled onto the idea of sending love offerings to area families fighting cancer. The immediate response from letters and thank you cards was impactful and proved something special was possible.
In 2004, founder Ben Kruse was taken from us in a tragic accident. This young man's spirit and soul inspired an entire community to rally together to not only raise money for a charity, but to also celebrate a life. 2005 was the first year the charity broke the $100,000.00 mark. The reputation and credibility was and continues to be on the rise. We are proud to say in 2012, we are fast approaching the major accomplishment of giving away our $1Millionth dollar!
The golf weekend is a party full of hugs, handshakes, laughter, smiles and memories shared. Our tag line is Celebrate | Give | Remember and we are proud to say all of this is accomplished in a big way every first weekend in June as 500 banquet attendees and 386 golfers gather for a guaranteed great time.

CLICK HERE TO DOWNLOAD Donation & Sponsor Information Sheet
More info about other 18 FORE Life Events can be found here
[AFG_gallery id='1′]
Past Charity Golf Event Results
2010 Scramble Results
Tournament Champions: Ashley McMillian, Jason McGowan, Matt Hartman, Brandon Stone….Winner's of the "Not So Famous" Tan Jackets (-15)
Over $105,000 raised in 2010!!!!!
2008 Scramble Results
Matt Christian, Kyle Christian, Chad Gill, Tyler Morris(-15) & Tim Holden, Steve Holden, Chance Holden, Tyler Holden (-15) 2-way Tie for the "Not So Famous" Tan Jackets
Over $100,000 Raised!!!!!
2007 Scramble Results
Tournament Champions: Jason Karnes, Dusty Stone, Brandon Machen, Chad Woolridge….Winner's of the "Not So Famous" Tan Jackets (-15)
Over $100,000 Raised!
2006 Scramble Results
Tournament Champions: Mark Kohlfeld, Mark Hogan, Nate Crowden, Clay Vangilder….Winner's of the "Not So Famous" Tan Jackets (-15)
$70,000+ Raised
$3,500 + Raised in Silent Auction
2005 Scramble Results
Tournament Champions: Robert Shell, Sonya Shell, Kyle Christian, Matt Christian….Winners of the "Not So Famous Tan Jackets" which will be passed down from year to year!!!! (-18)
$35,000+ Raised
$3,500 + Raised in Silent Auction
2004 Scramble Results
Tournament Champions: Eric Sitze, Jerry Jarrell, Ryan Jackson, Kyle Christian
$20,000 + Raised
$4,000 + Raised in Silent Auction
50 Teams/200 golfers participated in the 4th annual event