About Ben Kruse
Ben Kruse 1976-2004
One of the people who helped come up with the idea and was there to help organize in our first four summers was my brother, Ben. He loved our tournament because he knew it was honest and truly something good; from the heart. It was always a reunion of friendships for him with friends flying in from San Francisco, Oregon, as well as New York. It was a celebration of life and at the same time, some hard work and dedication to helping other people. Ben is no longer with us due to a tragic accident in August of 2004 that took him from us suddenly. His memorial fund fittingly was 18 FORE Life and brought in over $20,000 to the charity that he loved. That is something that he would be very proud of. His spirit will carry on and his name will help our charity grow and raise even more money in the future.
The Ben Kruse 18 FORE Life Charity Golf Event will be held next June 29-30. Mark your calendars and join us for a special weekend of events. Ben and I always dreamed of making this charity bigger than other people assumed we could. Now I am very determined to see those dreams come true. With Ben's help and guidance, we will do just that. He will be smiling big watching us each step of the way. An example I would like to share with you is Norm Stewart coming to join us in Dexter. Ben mentioned this the very first year when we were a very small charity with little direction. In 2005, it happened and was a dream come true.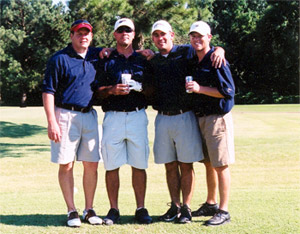 To add a little more about my brother and best friend: I was six years older than him. He always wanted to "tag" along and hang out with me and my older friends. I am so thankful that overall, I didn't mind him being around. We grew up laughing, fighting, competing, but most of all loving. We developed a relationship that was a unique one built on friendship, love, support, and respect for one another.
One of the many gifts Ben gave to me over the years would be the enthusiasm for golf in which he forced me into! Ben always said I would play and I always said that he was crazy. As usual, Ben wasn't wrong. He not only got me playing and enjoying it, but took on the task of teaching me, along with my Dad, Mom, Amy, Kerri, Kip, and countless others, how to improve. His patience was incredible, his knowledge and feel for the game was awesome. His temper was non-existent, something he failed to pass on to me. His swing was almost perfect and something I can still picture vividly in my memory.
The golf course grew into a place we could spend time together. We enjoyed each time out. The laughs, the high-fives, the hooting and hollering, beer-drinking, the broken clubs are all memories that will live on forever. This spirit is what our charity is all about. Ben personified so many things that are good in the world. He enjoyed being around other people, sharing good times, helping others, playing golf, and that is what 18 FORE Life is about. We miss seeing him out there. I miss the hugs and high fives, along with the great advice and the opportunity to see that beautiful, fundamentally perfect golf swing. But you can know that Ben will be there watching every birdie or eagle putt, along with every horrible shot that brings hysterical laughter from everyone present. I said at the 2005 banquet, "He will laugh his ass of at all of the horrible shots, but when the exciting ones are made, he will be looking for someone to hi-five!" He is smiling that smile down on all of us. We miss you Buzz!
Making Heaven Even Better
By: Scott Kruse
The boy wore a grin that made us wonder what he'd been up to
He had a smile from ear to ear, that could light up any room
And he'd wave his biggest wave to anyone who would pass him by
Now he's found a home in Heaven, where only Angels fly
He had a laid back streak that could easily stretch across a county line
But he always got his work done, and always seemed to have spare time
And in his eyes the sun was shining bright, no matter what the weather
Now he's found a home in Heaven, he'll make that Place even better
If he called you friend, you need to know that's what he lived for
While some folks think you can have too many, he always looked for one more
So when you hear that song or stay out too long, you'll be having that last one together
This time he had to go home early, he's making Heaven even better
Growing up he was so small, but having him around was awfully neat
I heard he wanted to be just like me, they called us Pete and repeat
Just like twins, we were best of friends, always wanting to be together
Now he's on a fairway in Heaven, thinking the ball carries so much better
Mom and Dad he loved you more than you could ever know
He loved to tell people about that love and wasn't afraid to let it show
Raising me you did OK, but with him you did even better
Now he's found his home in Heaven, where we'll all be one day together
He married his high school sweetheart and never even loved anyone else
He put that sweet girl before his friends, and way before himself
And the love they made will carry on and it will live forever and ever
He's smiling down on her from Heaven, he's making that Place even better
Now I always knew that Heaven was the perfect place
Knowing Jesus would greet us just outside those gates
And seeing God face to face would just be icing on the cake
Along with being with my loved ones……forever
Last week my brother left us, he's making Heaven even better
Last week my best friend left us, he's making Heaven even better
I Wish You Didn't Have To Go
By: Scott Kruse
The sun came out today
I never thought it would
I felt a smile on my face
I didn't think it could
And I'm doing my best, to take this all one day at a time
But it gets so hard, with all of these thoughts cluttering my mind
I wish you didn't have to go
I wish we could have said goodbye
I wish Jesus didn't call you home
And I wish my eyes would forget how to cry
They say time will heal everything
But oh….I just don't know
I wish you didn't have to go
I wish you didn't have to go
It rained like hell today
It must have been your turn to cry
I always thought it'd be that way
A flood will fit my state of mind
And I'm doing my best to find a way to carry on
But it gets so hard, when I face the fact that you'll be forever gone
I wish you didn't have to go
I wish we could have said goodbye
I wish Jesus didn't call you home
And I wish my eyes would forget how to cry
They say time will heal everything
But time has never moved so slow
I wish you didn't have to go
I wish you didn't have to go
Why would God give me this mountain I'm not sure I can climb
Seeing pictures of you just brings me to my knees
I'm not sure I can find the strength to make it to another day
Its not memories of you, its you……I need
Death is Nothing at All
By: Henry Scott Holland
Death is nothing at all
I have only slipped away into the next room
I am I and you are you
Whatever we were to each other
That we are still
Call me by my old familiar name
Speak to me in the easy way you always used
Put no difference into your tone
Wear no forced air of solemnity or sorrow
Laugh as we always laughed
At the little jokes we always enjoyed together
Play, smile, think of me, pray for me
Let my name be ever the household word that it always was
Let it be spoken without effort
Without the ghost of a shadow in it
Life means all that it ever meant
It is the same as it ever was
There is absolute unbroken continuity
What is death but a negligible accident?
Why should I be out of mind
Because I am out of sight?
I am waiting for you for an interval
Somewhere very near
Just around the corner
All is well.
Nothing is past; nothing is lost
One brief moment and all will be as it was before
How we shall laugh at the trouble of parting when we meet again!